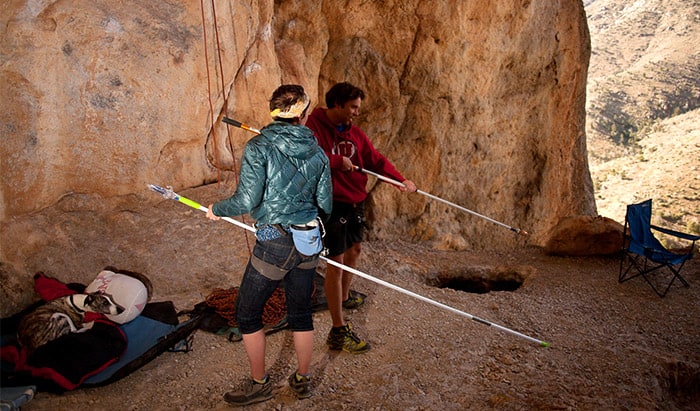 A stick clip is essential for climbers who want to avoid ground fall at all costs. Since it's expendable, the stick clip allows you to clip the bolt from the ground or unclip the draw from the bolt. This climbing equipment offers a safe way to approach routes with high first bolts.
This article lists four of the top stick clips in the market today. Our recommendations are based on our actual climbing experience and our research as we try to find the best climbing stick clip for everyone.
Top 4 Stick Clip Reviews
1. KAILAS Clip-up Climbing Stick Clip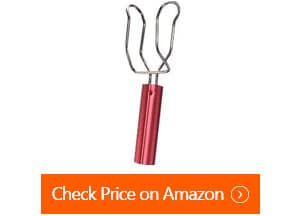 This product from Kailas is one of the best extension pole for stick clip in terms of design and overall usage. This climbing equipment is versatile and comes with a telescopic action with a twist lock allowing the climber to fix the length while clipping.
The best thing about this product is it easily unclips hanging draws and hangs them in the first place. Compared to other designs, this specific functionality is not doable from other products. This feature is useful when backing off something over your head. It will allow you to leave the first draw while staying trammed. The climber can clean overhanging routes while avoiding swinging out into the trees.
I am also impressed by the stiffness of this stick clip, making it more practical than other portable clips. I also like the overall length of this product, which easily fits the majority of modern climbing areas today. Storing will never be an issue since it compresses to a very compact and portable package.
In terms of usage, the clip works with a variety of carabiners. However, some carabiners must be twisted to get it to open the gate sufficiently. This stick clip will work on a large variety of carabiner shapes and various bolt-hanger designs.
Lastly, the screw hole in one end is also an excellent feature of this product. This extra feature comes with a little screw that will allow the climber to attach the length of the cord or anything else you want.
Pros
Built with lightweight aluminum alloy that can be adjusted in length for comfortable usage
Offers multifunctional features to help every climber, such as clipping a quickdraw to a bolt and clipping the rope to a quickdraw
Built to be compatible with most carabiners
Made with a large diameter to ensure stability and easy usage
The screw hole at the bottom allows attachments of items
Cons
The metal clip at the top is smaller for quickdraws
Overall, this stick clip is for climbers looking for something compact to carry during the climb. This stick clip will help in so many ways with its functionalities and will last longer since it is made of high-quality materials. It is very solid yet very light.
2. Superclip Blue Stick Clip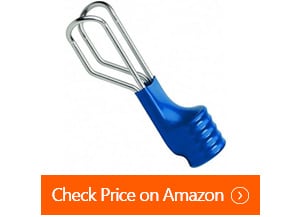 This product from Superclip is one of the best stick clip pole due to its simplicity and ease of use. This climbing tool will allow the climber to clip the first bolt on a route. Doing this way will save the climber from having the potential of a ground fall.
What I like about this stick clip is it allows every climber to attach easily and retrieve the carabiners and quickdraws instantly. It is made of stainless steel spring which is known for its superb durability to last for a long time.
It also weighs only two ounces, so it does not add weight during the climb. I also like the design, as it allows you to hold any standard-size carabiner in an open position for attachment to an anchor or a rope. This product can also be used with any extension pole.
Aside from being simple and easy to use, this stick clip allows you to hold the carabiner in position with the gate open. With its compact and small size, the climber can easily see and clip the bolt during the climb.
This product also feels durable when compared to other brands. It is a straightforward yet very functional stick clip. You will be more confident beginning sport leads even if the first bolt is slightly higher than your preference. This product can screw on a paint roller extender and clip a quickdraw. Retrieving the quickdraw is also easy with this climbing equipment.
Pros
Made with stainless steel spring which is built to last
Constructed very light to not add to the weight during the climb
Built with a design that holds any standard-size carabiner
It can be used to attach easily and retrieve quickdraws quickly
The tool can be used with any standard extension pole
Cons
Usage complications with larger carabiners
This product is for climbers looking for an invaluable tool for climbing. Aside from clipping the first and second bolts for safety, you can receive the quick draw left behind while allowing you to clip your rope to a permanent draw. Its simple and elegant design is also a bonus.
3. TRANGO Beta EVO Extendable Stick Clip
This stick clip from Trango is one of the best rock climbing stick clip that you can use during the climb, as it offers a redesigned head and an adjustable wire arm that easily clips wire gates and solid carabiners even if your feet are on the ground.
The length of this product impressed me so much. It is long enough to reach the first bolts on the route you choose to climb. The best thing about this equipment is it allows you to extend it quickly as it never collapses, unlike the other products.
I am also impressed by the easy usage of this stick clip. Clipping a draw to the bold is super easy using this climbing equipment. Re-clipping the rope after pulling the rope all the way through is also a lot easier.
This stick clip also feels sturdy compared to most of my tested products. But it is still lightweight, which really impressed me. This climbing equipment can last a week of non-stop climbing and should last longer.
This product also has a compact design and a collapsible feature, perfect when traveling. This feature allows you to store or carry this stick clip without adding any weight or additional burden from your end.
Pros
Built with a compact design for easy stowing in your bag
Made with strength and versatility
With a collapsible feature that adds as much as 12 feet of extension to your arm
With an adjustable wire arm that holds open the gate
Made for solid and wire gate carabiners
Cons
Plastic gaskets need to be more durable
This product is for climbers looking for a stick clip that is easier to carry around. This product will allow you to clip into your harness and bring it with you. Using this product, you can even turn a risky lead route into a safe top rope.
4. TRANGO Squid The UnClip Stick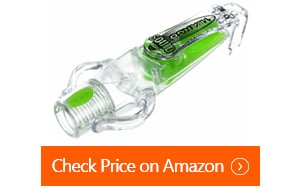 When the bolts are too high for comfort, this unique stick clip from Trango called Squid will help climbers clip their draws, rope in, and then unclip them. It comes with a sturdy pole and fixes to any standard pole, allowing you to choose your length.
What I like about this stick clip is that I was immediately comfortable clipping and unclipping only after a few attempts. It is easier to use when key lock biners are less likely to be snagged out from clipping and unclipping below.
In my experience using this product, I found it easier to unclip without the rope in, as the weight keeps pulling down the draws while attempting to unclip them. You can practice clipping and unclipping them on something more accessible to ensure you can retrieve the gear during the climb.
Durability and versatility go together in this stick clip. It's versatile, as you can use it in a normal stick clip. Another option is to clip ropes into the carabiner that is already up. From catching your first quickdraw to clipping them in at the bottom to ensure not to take a fall and removing a quickdraw from a route are some of the uses you can use in this stick clip.
It may take a while to get the hang of using this stick clip to retrieve a quickdraw from a bolt, but using this product is a great option to leave the gear if you can't finish a route and needs to lower off before reaching the chain or the bolts.
Pros
Built with the versatility to make top-roping much easier
With pivot arms and two fingers that provide grip and hold open the gate
Offers comfort when clipping and unclipping with a short learning curve
Versatility and excellent design rolled into one
Rope arms create a loop to slip your cord into hanging draws
This product is perfect for climbers looking for an excellent stick clip that provides solutions to every climbing activity. It has added arms to hold the rope while relieving the system from frustrating rope management issues.
How to Choose a Stick Clip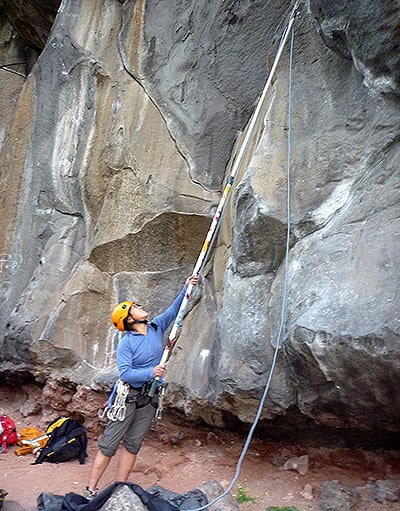 A stick clip is essential climbing equipment that can provide additional safety for the climber. But with all the options available, how do you find the right one for your climbing needs? Please see below some factors you can consider when choosing a stick clip.
Telescoping Pole
A rigid telescoping pole is what you need to look at a stiff telescoping pole first when looking for a stick clip. The telescoping pole must be rigid for durability and toughness. This feature will also make the clip compact and easy to carry.
When looking for a telescoping pole, you must avoid those thin and flimsy ones. The reason is that they lack the durability to be effective when used. I highly doubt the stick clip will last longer if it is flimsy and thin.
Length of the Pole
When choosing a pole, you must ensure that it has the right length to be useful during the climb. When the poles are not long enough in your climbing areas, this will not be useful during the climb.
Choose a stick clip with a pole long enough to reach a bolt too high for comfort. As a general tip, when extending a telescopic pole, you need to ensure that each section is tightened snuggly or expect a section to collapse while you work.
Look for a Screw-type Head or Tip
When looking for a stick clip with a pole, the best one you can get is those with a head or a tip that screws in. Poles and heads that are screwed in have more reliability and stability than those connected with duct tape.
Construction Quality
The construction quality is essential when choosing the right stick clip. You need to check the materials used in manufacturing the stick clip. Durable stick clip uses aluminum alloy and steel because these materials are known to have the strength to last longer.
How to Use a Stick Clip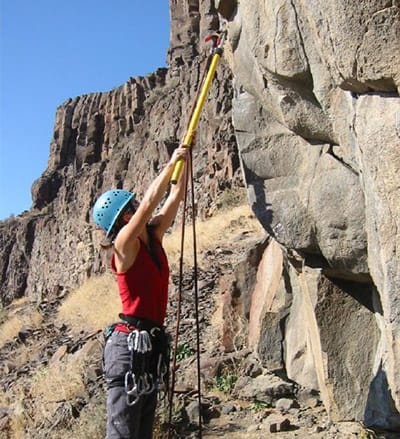 You may find different types of stick clips, but they are made with the same idea. The stick clip will help you attach the quickdraw's top carabiner to the top while the gate holds open. Then, the rope clips to the carabiner below. You will then clip the quick draw to the bolt and pull it down.
To unclip, you will thread a loop or bight a rope to the stop. Then, "lasso" the carabiner around the gate, followed by pulling. You need to operate the quickdraw out of the bolt while pulling it down. Try to do the same by putting the rope in a pre-placed quick draw or pulling the rope down.
Conclusion
When looking for the most trustworthy stick clip, there are several factors to consider with all the available options in front of you. This article features the most preferred stick clip to help your climbing activity. Our recommended product passed our test and is of good quality. These products are unique and can help make you safe during the climb.