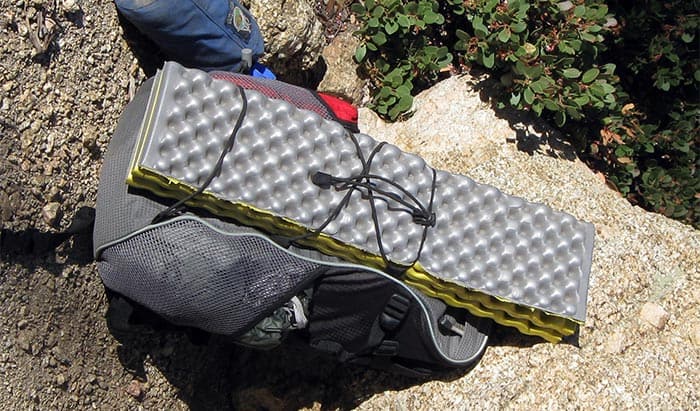 This article features the five best bouldering crash pads that a climber can use for safety. This climbing safety equipment is essential and will act as a protective foam layer that reduces the impact of a bouldering fall between the ground and the climber. The crash pads are a must-have for the safety of every climber.
Our team tried to inspect and test several bouldering crash pads in an effort to look for the top-notch one that protects every climber. We also check other features of the crash pads to check on the level of protection that they can give to the climbers. Please see our recommendations below.
Best Bouldering Crash Pad Reviews
1. Mad Rock Mad Pad Crash Pads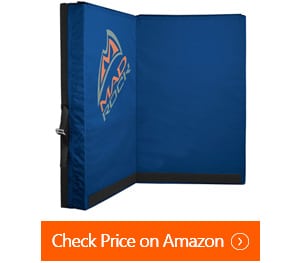 Thickness is essential when measuring the level of protection a crash pad can give a climber. This product from Mad Rock is one of the most commo bouldering crash pads that anyone can use confidently as it provides the right amount of thickness to protect the climber during the fall.
Checking at the physical features of this crash pad makes me impressed with the five inches of foam padding that the crash pad provides. The amount of thickness should be enough to lessen the impact during a fall.
Another factor that impresses is the durability of this crash pad. It is very well made and feels firm, which should enhance the amount of safety it provides to the climber. It also helps that this product has a closed-cell foam at the top which should help reduce the force of the fall on the open-cell foam at the bottom.
The closed cell foam at the front and back will also provide better protection from rocks and eventually helps increase this product's longevity. It is one of the best bouldering crash pads for beginners that anyone can rely on.
The weight is also a significant factor as this product comes very light at less than 14lbs. Also, it helps that it comes with straps that will make it easy for the user to carry the pad into the boulder field. It also has velcro straps that can be used to attach additional pads should you need more than one pad. Lastly, this product can be converted into an oversized lounge chair during relaxation moments.
Pros
Made with flaps to prevent unwanted folding
With Velcro straps that can connect to other pads
Hinge design with air back grade aluminum buckle closure
The five-inch thickness provides enough protection
Built with weather-resistant coating on the exterior fabric
Cons
Stiffness of the shoulder pads
This bouldering crash pad provides the best value and features to make the climber safe during the fall. It provides durability and can be carried easily toward the bouldering field. Lastly, its ability to be converted into a lounge chair is an excellent bonus to the user.
2. Black Diamond Circuit Crash Pads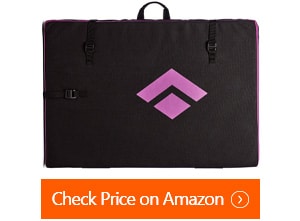 This bouldering crash pad is one of the perfect crash pads bouldering that I have seen for the simple reason that it provides a lot of features to the user. But the unique feature I have seen from this crash pad is its shoulder pads, which provide men's and women-specific pads that make it carry regardless of gender.
It also helps that this crash pad comes with a waist belt that helps enhance the comfort level when the user carries this product into the bouldering field. The backpack straps added to the crash pad make it easy to transport this product during the hikes.
In terms of its size, I feel that it's big enough for a standard crash pad. But I like the square design and the sharp corners that provide a larger coverage area compared to the other pads I have seen.
Durability is also the biggest asset of this product. It is the most suitable crash pad for solo bouldering that is built into a closed cell foam that provides excellent protection against impacts. It also helps that this crash pad is coated with high-quality nylon to enhance its longevity and provides resistance against the weather, mud, and abrasion.
In addition, this crash pad is also bonded with a high compression foam, providing a soft and comfortable landing every time you drop. Also, with its hinge design folded style, this product can be folded easily, making it easier to transport from one place to the other. The three easy hook metal buckles and the 3-strap closure system make this crash pad easy to keep and store when not in use.
Pros
Built with easy hook metal buckles and three straps for easy closure
Constructed with a hinge design to provide compact and easy transport
Design with square corners that provides a more extensive coverage
Built with gender-specific shoulder pads and waist belts or a comfortable carry
Made with a closed cell pad that offers excellent impact protection
Cons
Limited color availability
This product is highly-recommended crash pads for solo bouldering with all the features it brings to the climber, especially in lessening the impact during the fall. The backpack straps included in the product makes it easy to transport. Lastly, the nylon coating material helps improve this product's longevity.
3. Asana Climbing Rock Star Bouldering Pads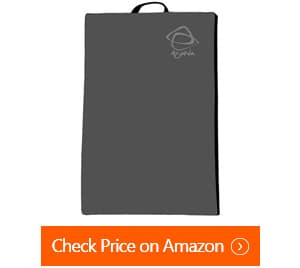 This bouldering crash pad from Asana is unique compared to the others because it is built as a supplemental pad. Meaning, I did use this product to act as a gap cover to the main crash pads. This bouldering crash pad can also be used as a hazard blocker or a sit start pad.
Checking at this bouldering pad's overall quality impressed me with its durability. It is actually made of high-quality nylon that provides toughness and durability. I am specifically impressed with the shoulder straps, which allow me to carry the crash pads easily during the hike or going to the bouldering field.
This climbing pad also comes with a shoulder strap system that allows you to adjust the shoulder straps to your preferred location where it is convenient to carry the pads. It also has a flapping system that will enable you to piggyback another pad underneath.
It also has four carrying handles positioned in different locations to allow the user to use it easily. The two handles are on the outside and the other on the inside to make it easy to move the pads to the landing spot.
Lastly, this product has a 1-inch closed cell foam and a dual density layer with an excellent thickness for the best protection of the climber. It is a reliable crash pad that you can use consistently to provide you with the best protection.
Pros
Made with rugged denier nylon for durability and toughness
Built with carrying handles for easy transport to the bouldering field
Made with only two pounds of weight
Created to act as a gap cover and a hazard blocker
Built to mount with the main crash pads
This product is an excellent supplemental pad to the main crash pad made by Asana. I am impressed by the quality of this product and its ability to act as a gap cover and hazard blocker to make the user safer during the climb.
4. Petzl Nimbo Bouldering Crash Pads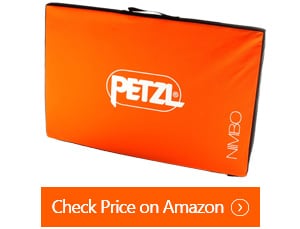 This crash pad from Petzl is a slider foam type that can provide several uses during a bouldering session. In addition, this backup slider pad brings many benefits to the user when used in the bouldering field. From my experience of using it, it's truly one of the best slider crash pads you can use in a bouldering activity.
I am very impressed with the overall design of this crash pad. The padding itself is very convenient to use. This crash pad was perfect for sit-starts and can also be used to protect any space between crash pads for safety.
Another important function of this backup slider, based on what I have experienced, is the ability to provide support from other crash pads. You can use it to fill any soft spots, and it can also be used during lounge out at the crag.
Durability is also one of the most significant assets of this bouldering crash pad. It is made of highly durable fabric, enhancing the pads' toughness and providing support in exposed areas. You will also see that the corners are well-protected, while the lower seams that contact the ground are also well protected.
Lastly, this product is also very easy to move or transfer, an advantage to the user. The product has a side carry handle to make transport much easier when moving around the bouldering field.
Pros
Built with convenience in mind makes it perfect for sit starts and protecting space between crashpads
It can be used as a backup pad filling soft spots
Made with durability using Cordura ballistic fabric
It can also be used conveniently during lounge out at the crag
Equipped with a carrying handle or easy transport or just moving around the boulder field
Cons
Only one color is available
With its lightness, this bouldering crash pad can be used in many ways. First, it will be perfect for sit starts while putting the main pad in the landing zone when needed. When bouldering with a group, this product is also excellent when covering gaps between multiple pads.
5. Metolius Session II Crash Pads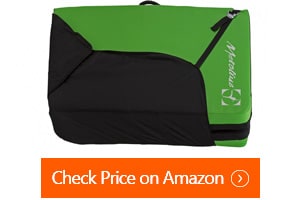 This product from Metolius is an updated version of a previous model but still weighs very light. The most noticeable feature that I instantly like is its padded shoulder straps. The straps make it easy to carry in and around the bouldering field. The presence of a waist belt also adds to the convenience of moving this crash pad from one place to another.
I am also impressed by this crash pad's quality and durability. It is built with tough exterior fabrics that can withstand all the external factors of the outdoor environment. The presence of a carpeted logo will give you a place to clean and wipe your shoes.
Meanwhile, this bouldering crash pad's flap closure system makes this crash pad easier to load by the user. It allows the product to fold nicely during transport. The paddings also have the thickness for landings while the fold is protected to avoid ankle injuries.
I also like the presence of four new drag handles in this product. This new feature allows the user to position the crash pad easily while the fit unfolds on the ground. This product is so easy to use and brings a lot of added features.
Lastly, the lightness of this crash pad is so impressive. Even if it is an updated design with added features, it is still very light and does the job as expected. It is one of the largest bouldering crash pads that anyone can rely upon.
Pros
Built with four new drag handles to allow easy positioning while being unfolded
Made with lightness in weight which is perfect for bouldering
Durable exterior fabric stands that can withstand the tough outdoor environments
Made with a padded shoulder strap makes it comfortable and easy to carry
Built with a lap closure system that makes it so much easier to load
Cons
Some loose threads on the Velcro material
This bouldering crash pad is so easy to use. The padded shoulder strap in this product allows the user to transfer it or move it around the bouldering field quickly. This product is equipped with thick padding or landings, while the old one protects the user from ankle injuries.
What to Look for in Looking for a Bouldering Crash Pad
In looking for a bouldering crash pad, there are things that you need to consider before choosing a particular product. These actors will guide you in selecting the right one for your bouldering activity. Please see below.
The Size
The first factor you need to consider is the size of the crash pad. Normally, buying a crash pad for the first time requires buying two pads of different sizes: one large and one small. The size of the pad varies from one manufacturer to another, but there are certain advantages and disadvantages in buying a particular size of pad that you need to know.
For a large bouldering crash pad, the advantage is it covers a large area. But, it is much heavier during transport, takes a lot of space, and is probably costlier. On the other hand, settling for smaller crash pads is completely the opposite.
Of course, the objective is for you to be protected in your climbing activity. So, if you have the space and the budget, settling on the large one or both is recommended. If not, start by having a smaller bouldering crash pad.
Crash Pad Cover
The cover is one of the two essential parts of the crash pad that you need to check. The cover is the material covering the pad. The exterior part of the crash pad usually comes in a hard or soft texture. The advantage of a hardcover is its durability and ability to withstand the challenges of the outdoor environment.
Still, it may not have the comfort to lounge around, which is an important part of your bouldering session. Soft covers are excellent if you want to wipe or clean your shoes and are much nicer to lounge on.
The Foam
The second major part of the crash pad and probably the essential part is the foam. But there are various types that you need to know: closed-cell and open-cell foam. The closed-cell foam has stiffness and durability. It also provides weather resistance and is better if climbing on taller boulders.
The open-cell foam is soft and absorbent but is not as durable as its counterpart. This foam has the softness to provide comfort when sleeping but gives a higher probability of bottoming out when having a long sleep.
Thickness
The thickness of the foam will be responsible for the quality of the crash pad to take out a fall. A taller or thicker pad usually has more layers and can take longer and more significant falls. Shorter pads are perfect for smaller falls.
Frequently Asked Questions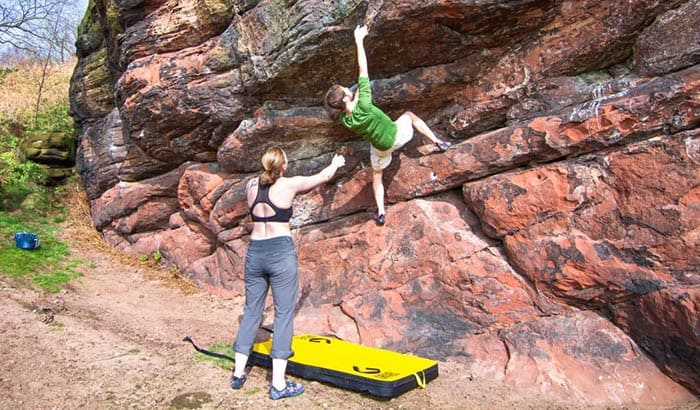 How Many Crash Pads for Bouldering?
If you are just starting, you can have at least one, but having two crash pads is preferable. Since the crash pads make you safe when falling, having two pads will ensure that all dangers such as rocks and many other things are entirely covered. The more crash pads you use, the safer you are during the fall.
What is a Bouldering Crash Pad?
A crash pad is your safety line when falling during a bouldering session. It will help prevent climbers from getting injured as it lessens the impact of the fall between the climber and the ground. Crash pads usually come in various sizes and styles.
Conclusion
There is no doubt about the importance of the crash pad in doing any bouldering activity. The best bouldering crash pads will not only prevent the climber from being injured during a fall but will also help to conquer more challenging boulders. For this reason, it is a must to look for a bouldering crash pad that suits your needs and climbing skills. You also need to consider the common landing surfaces of the bouldering site that you are using.