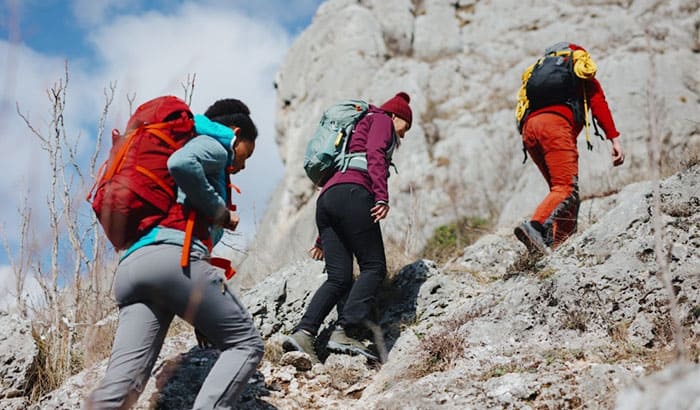 Indoor rock climbing is a great sport especially for people who wants an adrenaline-pumping activity that pushes someone's body to the limit. It is an excellent workout that can target both strength and cardio. However, anyone who is interested in the sport and wants to learn needs to know what to wear for indoor rock climbing. Using the proper outfit will bring comfort, prevent unnecessary injuries, and brings out the best performance.
So, what is the best choice for an indoor rock climbing outfit? The sport does not need some technical and complicated clothing. As long as it is comfortable, non-restrictive, and can give the player the ability to move freely, then the outfit should work out well.
Things to Look for When Looking for an Indoor Rock Climbing Outfit
When looking for an indoor rock climbing outfit, there are certain factors that you should consider. Please see below:
Always Keep It Simple – Choose an outfit that is not complicated, not too technical, and does not prevent the user from moving freely.
Comfortable – An outfit that provides the best feel during the activity.
Lightweight and Breathable – The sport will give you a lot of physical activity and it is expected that you will sweat a lot. So, something that is breathable and lightweight can bring a lot of upsides.
Does not Prevent Movement – Since this sport is some kind of a workout, the best thing is to use outfits that do not restrict the movement of the player. Loose or cool uniforms should work out well.
What to Wear for Indoor Rock Climbing
The two important factors in choosing the right indoor rock climbing should be comfort and unrestricted movement. So, if you have an active lifestyle and owns sports gear and gym outfits, there is no need for you to buy something new and just used those gears instead. But if you do not own those outfits, then the best option for you are the following:
For Men
Indoor Rock Climbing Tops and Vests
There are a lot of vests and tops available and the choices are plenty in terms of style. A cotton top is the most normal one that a rock climber can use but polyester t-shirts are highly recommended. These types of t-shirts are light and breathable and worn by experienced indoor climbers.
Indoor Rock Climbing Pants
Different type of rock climbing pants offers different range of styles. But the most popular are jogger pants. If you do not like jogging pants, climbing pants is another option. These are the type of pants being used by experienced mountaineers and hikers. This should also work well for indoor rock climbing.
Yoga Pants are another style that can be used as rock climbing pants and are designed to provide a lot of movement. Jeans can also be used for indoor climbing but they should be the type that does not restrict movement. Skinny jeans that are designed to stretch can be used as indoor rock climbing pants.
Indoor Rock Climbing Shorts
If you are doing indoor rock climbing in a place where it is hot or humid, then rock climbing shorts should be used. This will bring some breath of fresh air to your body when dealing with an over-like temperature.
For Women
Indoor Rock Climbing Top and Vests for Women
Fortunately, there are a lot of shirts and vests but the most popular among women indoor rock climbers are loose-fit and oversized. I am not recommending sports bra or crop top in this particular sport because it brings a lot of inconvenience to the ladies.
Indoor Rock Climbing Pants for Women
Climbing pants for women does not differ much from men. But the obvious difference is the cycling shorts and leggings as add-ons. A lot of women's indoor rock climbing enthusiasts are wearing leggings with different vibrant colors.
The Indoor Rock Climbing Shoes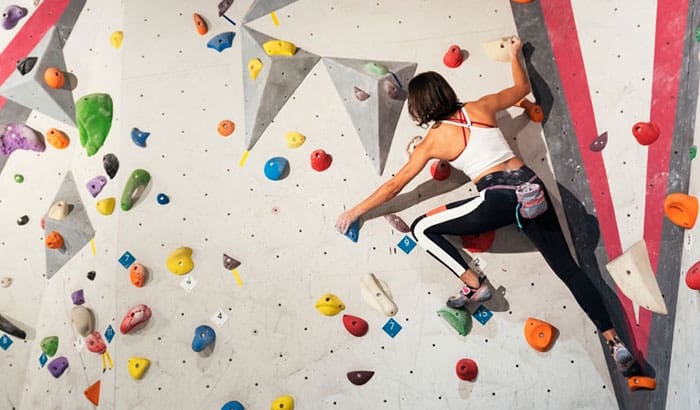 If you want to learn indoor rock climbing, then climbing shoes is a must to have. These type of shoes is different from the regular shoes that we know. Also, when looking for climbing shoes, comfort should be the top priority because it can bring a lot of advantages when it comes to maximizing your performance in the gym.
If you are still new to indoor rock climbing, probably, you do not own a pair of rock climbing shoes yet. But do not worry because most of the indoor rock climbing gyms have rock climbing shoes that are for rent. So, you can use this option if you are just starting or you do not have the budget yet to buy a new pair of rock climbing shoes.
Do you Need Socks When Doing Indoor Rock Climbing?
Yes and no. Yes, if you are using rental shoes for your rock climbing activity. Usually, rental shoes are old and worn out and are being used by several people. Therefore, wearing socks is important for your proper hygiene. The answer is no if you are using your rock climbing shoes. Apparently, these type of shoes is meant to be used without socks because they will give a tighter fit which will give a lot of feel on the holds.
Conclusion
Knowing what to wear for indoor rock climbing is a must if you are just starting to learn the sport. Wearing the proper outfit will bring a lot of comforts and will help in maximizing the performance of an individual during his indoor rock climbing.