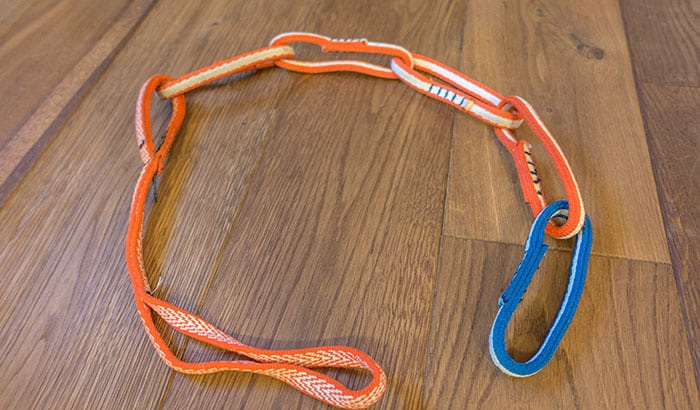 The Metolius personal anchor system (PAS) is known for its chain-link-style construction, which offers safer, more convenient, and more adjustability when compared to quickdraws, slings, or daisy chains at the anchor. This personal anchor system helps keep the climber safe while rigging a top rope anchor after gaining the chains.
But how to use the Metolius PAS? The way it works is it is girth itch to tie in points of the harness followed by using a carabiner to clip to your anchor points when at a belay or a stance when a climber is waiting to rappel. To know more about using the Metolius PAS, read this article until the end.
Three Different Types of Metolius PAS and How to Use It
There are three different Metolius PAS that you can use, the PAS 22, the Alpine PAS, and the Dynamic PAS.
PAS 22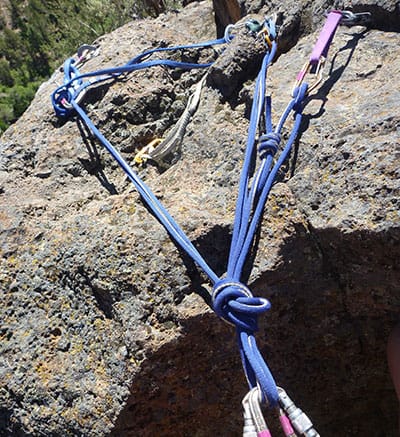 The PAS 22 is considered the most popular among all the Metolius personal anchor systems. The product takes pride in its strength, allowing it to be used as a sling. If you are looking for the strongest Metolius PAS and a heavy-duty workhorse at the same time, this product is an excellent option when you climb a lot.
When you are cleaning gear on a top rope climb or just getting ready a second up a multi-pass route, this anchor system will make it easy to connect to an anchor. All you have to do is girth hitch this product to your harness, then clip it into an anchor at any of the full-strength sewn loops.
This product has a large end loop that can lark feet with your harness. Also, the end sling comes in different colors, allowing you to identify which gate it goes into. This product can also be used in various situations like ice climbing.
You can also use PAS 22 to build an equalized top rope anchor on a climb, along with bolted anchors. With its contrasting color at the end of the loop, it will be easier to identify the clip-in point.
Alpine PAS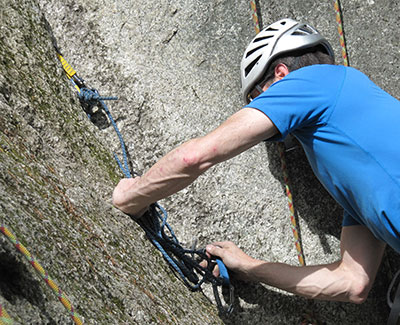 The Alpine PAS is entirely the opposite of the PAS 22. It is the lightest and the smallest personal anchor system from Metolius. Even if it's the lightest or smallest personal anchor system, it still meets the harness standard for strength. But this product can only be used as a personal anchor system, not as a sling.
The Metolius Alpine PAS is your lightweight solution for fast ascents. This product is known for its easy-adjustment feature and compact size, which allows it to be stored easily. It also comes with a chain-link construction to eliminate the risk of pocket failure that is usually found in daisy chains. However, please note that this system can only be used as a personal tether.
The Alpine PAS is 40% lighter compared to the PAS 22. This product uses lighter materials, making it much thinner than nylon but stronger for its weight. This personal anchor system is known for its versatility.
Dynamic PAS
The Dynamic PAS is the latest among the three Metolius PAS. This personal anchor system comes with dynamic properties comparable to a climbing rope. The concept of this system is when you are hooked in, standing on a ledge, and your PAS has some slack in it, and you will fall off, this product absorbs energy much like a climbing rope.
This product is made with a special climbing rope, allowing it to absorb more energy. Its various features can be used as an adjustable alternative to slings and quickdraws. The Dynamic PAS is also bulkier compared to the two previous versions.
However, it feels different when you are on the harness, as you will never feel its bulkiness. Iy uses involve hitching a longer terminal loop directed to the harness tie-in points. It will anchor the opposing terminal loop to one anchor. You then choose the right loop that will be clipped into the remaining anchor point.
This personal anchor system offers an easier way to tether to anchors. It has the ability to deliver additional safety margin in situations where a high factor fall is possible. The result is minimizing the risk of injury or the failure of the anchor. As an added bonus, the Dynamic PAS is also less bulky and more straightforward in design than other dynamic anchoring systems.
Conclusion
Learning how to use Metolius PAS is excellent knowledge to have if you are just a beginner and lack the knowledge to tie knots. These systems have the ability to offer safer and better convenience compared to quickdraws, daisy chains, or slings, and this product is worth considering as part of your climbing tools.