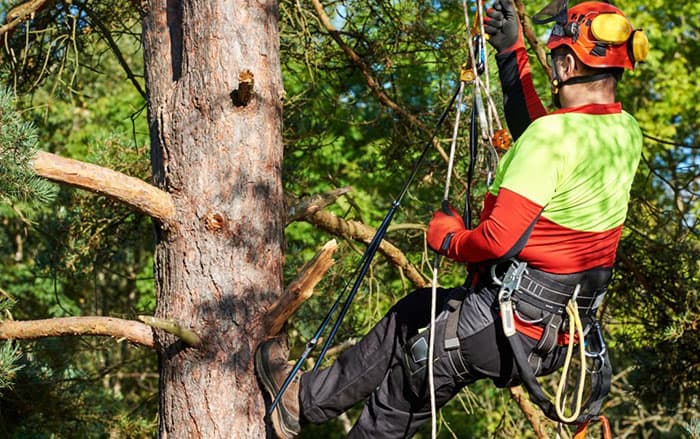 This article lists seven of the top foot and knee ascender that a tree climber can use today. These tools will make climbing the rope easier and more efficient for arborists and tree climbers. A climbing foot ascender and a knee ascender allow you to set up a walker system to climb the tree quickly.
To find the best knee ascender and foot ascender, we have tested several products in actual tree climbing activities. During the testing process, we checked the product's performance, quality, and other related information and compiled the most common products based on the result.
Best Foot & Knee Ascender Reviews
1. PETZL PANTIN Foot Ascenders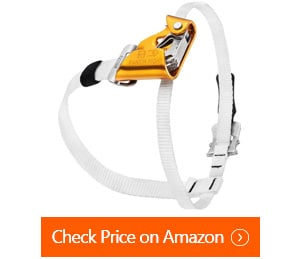 This foot ascender from Petzl is perfect for climbers new to ascending rope when climbing. Weighing just 85 grams, this foot ascender is commonly used with an ascension, croll, or basic and is an essential tool when using the single rope technique when climbing.
Upon checking this arborist foot ascender, I am impressed by the high-quality materials used in the manufacturing process. The materials used are aluminum, stainless steel, and Dyneema. These materials are known to be tough and durable.
But the best thing I am impressed with about this product is the availability of right or left-foot versions. So, whether you are right or left-footed, it will not be an issue because you can specifically choose the right ascender for your needs.
During the climb, I am impressed by how this tree climbing ascender kept the body vertical to make your ascent more efficient and fast. This situation will positively affect the climb, significantly reducing tiredness.
This foot ascender also comes with a compact design. Combining it with the durability of its attachment strap, it will allow it to remain constantly attached to the climber's foot. Lastly, this product will allow you to buy a new catch to keep the rope on the device when climbing.
Pros
Excellent manufacturing quality
Made with high-quality stainless steel, aluminum, and Dyneema
Keep the body vertical for an efficient and less tiring ascend
Compact-shaped built with attachment strap to constantly attached to the foot
Give you the option to add a catch
This product is the best arborist foot ascender that you can use when tree climbing, especially if you are just starting. You can use it for rapid ascent easily. This product is a must-have for a right and left ascender that uses the double rope technique.
2. Climbing Technology Quick Step Foot Ascenders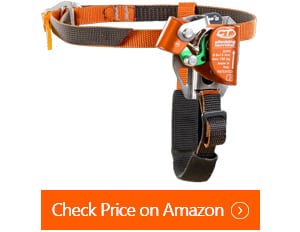 The first thing I noticed about this right foot ascender is its impressive packaging. But this product is more than just its packaging; it offers reliable functionalities that can help tree climbers climb efficiently and safely.
Checking at the overall physical features of this foot ascender, three things are obvious: the product is very light, compact in design, and very efficient to use. Weighing just 6.9 ounces, the compact design and its lightness will make you unaware of the presence of this ascender during the climb.
Another feature that impressed me was the adjustable webbing built into this product. This feature will allow the climber to put the ascender in the exact location where you want it to be placed. The result is reduced kick-out and a better grab during your climb's most important first steps.
Then, there is the adjustment sling which allows the climber to have a better positioning. I am also impressed by the lower strap, which is protected by tubular webbing. This durability makes this ascender work on muddy or ice ropes, especially with its self-cleaning cam.
Lastly, this foot ascender comes with a unique locking cam feature that prevents accidental release of the line. This locking cam is so easy to use during the actual climb. In fact, you can use one hand to get in and out quickly.
Pros
Made with a locking cam that prevents accidental release of the line
Built with an adjustable sling that provides correct positioning
With tubular webbing protected lower strap
It comes with adjustable webbing that allows you to position the ascenders quickly and correctly
Light and compact
This foot ascender will make your climb smooth and fast. The presence of a cam lock prevents accidental release on the line, and it is easy to use too. Based on my experience using this product, reliability and comfort set this product above the rest.
3. Notch Jet Step Foot Ascenders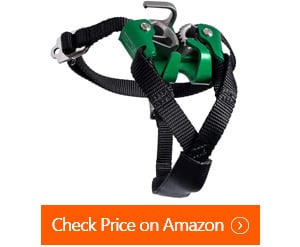 This ascender from the Notch store is unique in its own right because of the so many features it brings to the climber. But more importantly, I found out that this product is made in America, which gives me more confidence in the quality and functionality of the product.
The most impressive thing I saw with this product was the dual cam design. During the actual tree climb, this feature makes the tension of the spring very low while reducing the overall drag. The result is a self-tending efficiency of the climbing line.
Another unique feature that feels impressive is the toothless cams. With this feature, I feel that when the rope is used with this ascender, the wear and tear is lesser, which also helps increase the grip, especially on muddy, wet, and frozen ropes. The low friction design allows the rope to slide through the device easily.
I love how it is designed; getting on and off the rope is so easy. It will allow you to pull to the center of the two cams. This product is also ambidextrous, so you can use it left or right on your foot.
Lastly, this rope is also very light. During the climb, I did not feel anything, which indicates how lightweight this product is. I also notice that it stays in the rope and will not kick you out, providing smoother operation during the climb.
Pros
Made with toothless cams proving the roof with less damage
Built with a unique dual cam design resulting in lower spring tension and reduced drag
Easy to clip in and out of the rope
Ambidextrous; It can be used to the left or right of the shoes
Fully adjustable to fit with both foot
Made in the USA
Cons
The coating on the metal does not have a good finish
I feel that this foot ascender takes it to another level with some excellent features. Aside from that, it is also very light and will not even be felt during the climb. The spring tension of the cam is light enough to move up the rope efficiently, providing an efficient climb.
4. NewDoar Rock Climbing Foot Ascender Riser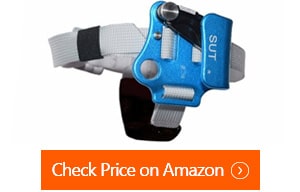 This foot ascender from NewDoar is what every climber needs if they are looking for efficiency and overall performance. Weight just above 4 ounces, this product will be put on your climbing boots to maintain the rope's tension. This situation allows ascending so much easier.
The first thing I immediately see in the product is its impressive construction quality. This foot ascender is made with aluminum-magnesium alloy, which is known for its strength and toughness. These materials offer high strength, lightness, easy maintenance, and corrosion resistance.
I was also impressed by the large sharp teeth found on the cam. The way it bites the rope is equally impressive, making the climber safe. This product also has self-cleaning features to allow the ascender to work even with dirty or icy ropes.
The best of the ascender is also made large while using innovative straps to make the rope ascend more efficiently and less tiring. If you want to speed up the ascent of the rope, you can use this ascender with a chest ascender or an ascender handler.
Overall, the quality of this product is impressive. It will not engage in the thinner static lines, while the strap has an excellent thickness. It also provides sturdiness and does not have any significant issues during the climb.
Pros
Built with wide belt and straps provides less tiring and more efficient ascent
Manufactured with aluminum-magnesium alloy known for its lightness, strength, and resistance to corrosion
Made with large sharp teeth on the cam to bite the rope and make the climbers safe
Allows easy and quick adjustment using a steel buckle
With thickened foot pads to provide firmness and durability
Cons
Tendency to slip after some time
This product can be used for tree climbing, SRT rope climbing, pulley, and many other applications. It makes the rope climb easier as well. The adjustment buckle and reinforced sewing enhance the overall quality of the product.
5. WILDKEN Climbing Sling Foot Loop Ascenders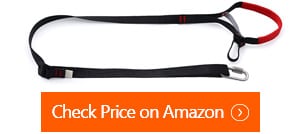 This adjustable sling foot loop ascender from Wildken can be combined with other ascenders for smooth and efficient climbing. This product provides flexibility as it can be used for outdoor activities such as rock climbing, mountaineering, expedition, caving, and rescue work.
Checking at the product's physical structure impressed me with its construction quality. This product is the best caving foot ascender since it is built of solid polyester that offers resistance to abrasion and extra lightness.
This product also has the ability to be combined with a hand ascender or a chest ascender for smooth and efficient climbing. This foot ascender is also built with an adjustable buckle to allow an easy adjustment that fits your height.
I am also impressed by the sewing quality of the threads in this product. The foot loop sewing is acceptable and precisely the same throughout. It uses a double thickening process which enhances the wear resistance of the product.
Then, I also find the small adjustable loop very useful. This small feature can be used for fixing the shoe's position after wearing the product to prevent it from slipping out. Lastly, a screw lock hook is directly connected to the hand ascender, which will help save space.
Pros
Built with polyester to provide lightness and abrasion resistance
It can be combined with hand and chest ascender
With adjustable buckle to adjust the length
With an adjustable loop for fixing shoe position
Excellent sewing quality with a double thick process to increase resistance
Overall, this foot ascender is an excellent product to have for climbers. It is easy to adjust and is constructed with high-quality materials making it last longer than expected. Its easy adjustment feature also allows people of different heights to use it easily.
6. PETZL W/Croll Knee Ascent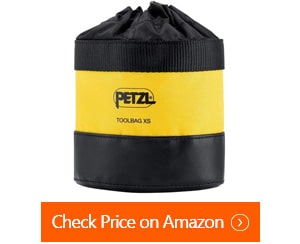 This product from Petzl will help you ascent when climbing a tree with a single rope. An arborist knee ascender facilitates the arborist's ascent in conjunction with the other climbing equipment. The company is recommending their mechanical prusiks when using this product.
My first impression upon seeing this product is fantastic. It is because buying this product will not only get a knee ascender, but you will also get other tools which are part of the knee ascent loop system.
The best thing about this loop system is its ability to be adjusted to all shapes and sizes. Also, this knee ascent loop system comes with an upper strap, a lower strap with a foot loop, a croll L loop lamp, and an XS-size toolbag tool punch.
The manufacturing quality is also a significant factor in recommending this product. This knee ascender is built with steel, aluminum, polyester, and nylon. These materials are known for their durability, toughness, and resistance to outside threats. These materials will make this product tough and durable.
Lastly, this product is also impressive in installation and removal. The presence of connectors and adjustment buckles makes the system easy to put in place. This product also has multiple settings that can easily adjust to different shapes and sizes.
Pros
Built with durability using aluminum, nylon, steel, and polyester
With multiple settings, adjusting different shapes and sizes
Made with a lower foot strap that promotes optimal positioning
Easy installation and removal
Integrated with a rope clamp for a comfortable ascent
Cons
It needs other equipment for it to be used
This product is a valuable piece of equipment that can make your tree climbing efficient and safe. Made with high-quality materials, this knee ascent loop system will help facilitate the climber's ascent quickly and safely.
7. NewDoar Tree Arborist Foot Ascenders Loop

This foot ascender from NewDoar is what you need if you are looking for quality. The first thing that makes this product stand out is its construction quality. The material used is polyester and is made of strong webbing, making it stand up to all the climbing challenges.
I also like the lightness and compact design of this device. You will not even feel it during the climb, and it will even lighten your rack and gears. You can also attach this product to a basic rope clamp or an ascension-handled rope clamp for rope ascents.
Another upside you will get in this product is its easy adjustment feature. It comes with an adjustable buckle that allows a climber to adjust this ascender according to the height easily. The foot loop can be adjusted easily from 80 cm to 120 cm.
This product is also so easy to use. You must connect this foot ascender sling to the hand, foot, and chest ascender or carabiners. If you use all of these ascenders, it will be so much easier for the climber.
Lastly, this product can be used with any climbing shoes and can be stored easily if not in use. It also provides flexibility in its usage as it can be used in various climbing activities. Whether rock climbing, tree climbing, caving, or hiking, this product can help you during the climb.
Pros
Easy-to-use feature
Easy and quick adjustment according to the climber's height
Made with lightness and compact design
Built with strong polyester
It can be used in various climbing activities
Cons
Tendency to slip off the feet
Overall, this is an excellent product to have. This foot holder is so easy to use and has the simplicity of snapping on a loop. Quality is also impressive, along with its overall performance as a foot sling.
How to Choose Foot & Knee Ascenders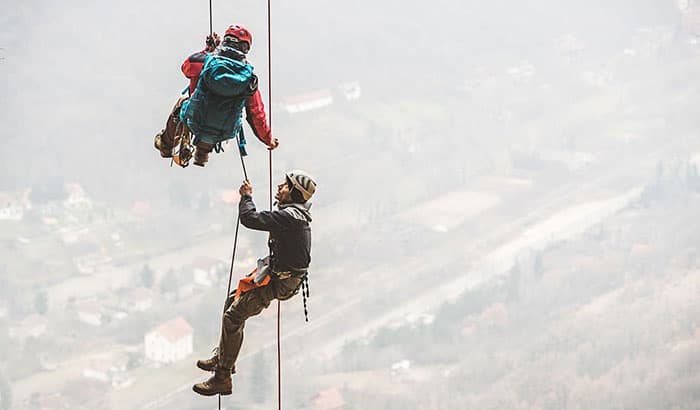 Foot and knee ascenders are a big help in making the climbing of the rope easier and more efficient. However, with all the options available, there are certain factors that you need to consider to allow you to buy the right product.
Construction Quality
The first thing that you need to consider when buying a knee or foot ascender is its construction quality. You need to know how this product looks in terms of its physical appearance. Does it look durable? What are the materials used in manufacturing the product?
I suggest looking for durable and tough materials such as stainless steel, aluminum, and other similar materials. You also need to look for polyester and nylon in terms of the straps and the other parts of the product. The goal is to put a premium on quality when choosing the knee or foot ascender.
Weight
Another factor to consider is the weight of the ascender. Choosing the lightest ascender is a good decision since it can also help in making your climb so much easier. I have used the lightest ascenders so many times in the past. Some of them will not be felt during the climb because of their lightness.
Compact Design
Another factor that you can consider is the design of the ascenders. And I prefer it compact. The smaller the ascender is, the better for you because it is much easier to use compared to the large one. The lightness and the compact design are related to each other in terms of providing the climber with an easier way to climb.
Easy Adjustment
Another factor to consider is how the ascender makes adjustments in relation to the physical feature of the user. Look for a foot or knee ascender that is easy to adjust because that will help your climb much easier. Climbers have different body structures, heights, and weights, but with an easy-adjustment ascender, they can easily adjust to the proportion of your body.
Other Features to Consider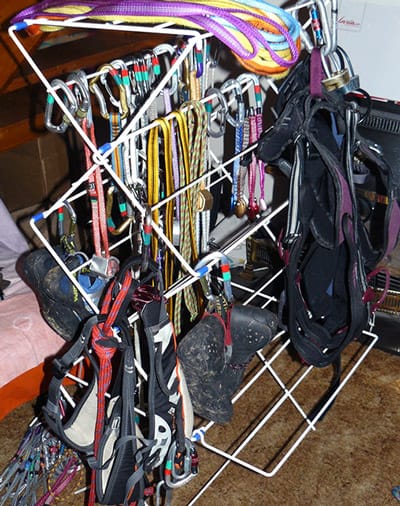 Choosing between Left or Right Foot Ascender
Many climbers always ask where to choose between left and right foot ascenders. The easiest way to figure it out is to know which is your power leg or dominant leg. If you do not know it, there is a way to determine your dominant leg.
All you have to do is determine which leg is on the ground when you run and then jump. The foot that is on the ground when you jump is your dominant leg. If it is the left leg, you will use the left foot ascender and a knee ascender on the other leg.
Conclusion
The best foot & knee ascender are essential for a smooth and quick climb. However, choosing the most suitable ascender for your needs requires a lot of research to maximize its full usage. There are many factors to consider, but our product suggestions have passed our thorough testing and can help your future climbing activities.