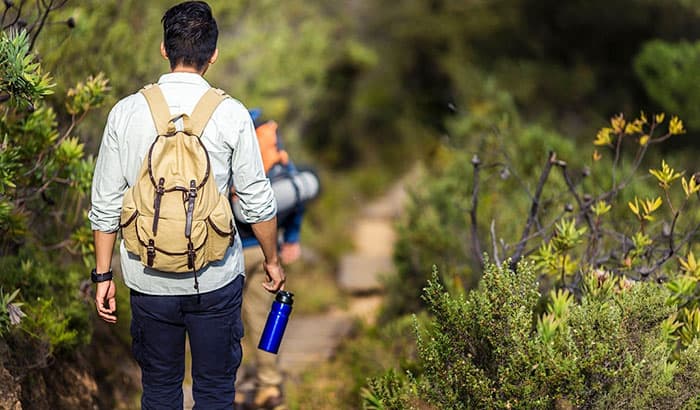 Staying hydrated is essential if you walk or do other activities such as trekking or running. But do you know how to carry a water bottle while walking or any other physical activity? If not, check our list of different methods below.
Method No. 1: Through Handheld Water Bottles
Using handheld water bottles is one of the more popular options when carrying water while walking. So, your hands will be responsible for carrying the water bottle throughout the walking activity. It is simple and easy to do, but you need to be comfortable holding the bottle throughout the exercise.
Handheld water bottles come in various shapes, sizes, and even nozzle types. Some people doing exercise like to grip something in their hands which makes this method perfect for them. Others who do not like it usually experiment with wrist straps to make them comfortable.
Method No. 2: Through Water Bottle Waist Packs
Using a waist pack is also an excellent way to carry a water bottle while walking. Waist packs come in various styles, but the most popular are the water bottles resting vertically at the base of the person's spine at a 40-degree angle.
There are different types of water bottle waist packs that anyone can use. There is a single water bottle waist pack and a double water bottle waist pack. If you are walking a longer distance, then having two bottles of water is very important to keep you hydrated on the long journey ahead. Although using the double water waist pack, the alignment and movement of your arm can cause shoulder pain.
Method No. 3: Through the Use of Hydration Belts
I consider hydration belts as a perfect method of carrying water while walking if you want quick and easy access to the water. A standard hydration belt has several small bottles that can be used to store all the water you need when walking. It also comes with an extra storage space dedicated to your other valuables.
I have seen hydration belts that hold two to eight bottles. You can actually put water in all of these bottles, but you can also alternate between putting water and your energy or performance drink if you like.
Method No. 4: Through the Used of Backpacks and Vest
Backpacks and vests are excellent ways to carry water bottles while walking. These types of water bottle carriers used to be intended for bikers and hikers. However, several backpacks and vests are now available with a very lightweight, allowing casual walkers to carry water bottles easily.
If you do not want your hands to be occupied with water bottles, then using a backpack or a vest that provides storage space for bottles can also be used. The storage will provide easy access if you need to drink the water immediately.
Method No. 5: Through the Used of a Water Bladder
Using a water bladder is also another way to carry a water bottle when walking. Water bladders are popular with people who hike regularly. This unique hydration system usually rides in a pack next to the user making the position very balanced. The size of a water bladder ranges from 1 liter to 3 liters which are enough for a short distance walking.
Usually, a water bladder comes with a hose that makes it easy to consume the water quickly. The hose will also help every user drink more since the water is accessible through this setup. Water bladders are also very stable and are very light, which benefits the user during the walk.
Method No. 6: By Using a Disposable Bottle
Using a disposable water bottle can also carry water while you are walking or doing other forms of physical exercise. The disposable bottle comes in various shapes and sizes and can be combined with other water carriers' waist packs and backpacks to work. It can also be used by holding it throughout the walk.
Factors Affecting When Carrying Water Bottles While Walking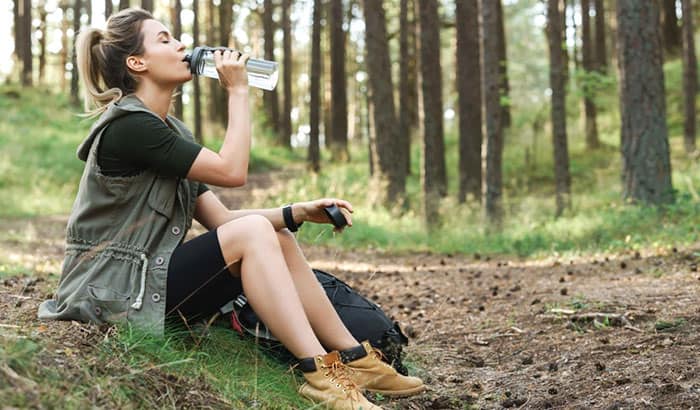 When carrying a water bottle while walking or any other form of exercise for that matter, there are certain factors you will need to consider to make carrying easy and comfortable. Please check below:
The Right Balance
The weight of the water carrier must be balanced from both the sides and the back. For example, when a water bottle is sitting in front of a backpack and farthest to your body will be uncomfortable while you walk.
You need to find a way to balance the weight of the water bottle. If you can have two bottles on both sides of the backpack, the better. The simple reason is that the weight hanging off one side will make the other side of your body tire faster due to the imbalance.
Stability
When carrying a water bottle, you need to find the right stability, especially if you are walking for longer distances. For example, if you have a 2-pound water carrier that is consistently swinging back and forth, it will be uncomfortable and disrupt your walk rhythm.
To increase the stability, you need to ensure that the water carriers are properly secured, fastened, and packed correctly. This action will prevent unnecessary movement or swinging during your walk.
Carrying Unnecessary Weight
If you try to analyze, the water container you are using will also add to the weight of the water you will carry. So, if you take 2-pound water and put it in a 2-pound water carrier, it will result in an efficient and uncomfortable walk.
So, you will need to look for a water carrier that does not come with too much weight. Minimizing the ratio of the water to the container is extremely important unless you have someone to carry your water carrier.
Easy Usage Feature
If you can find a water carrier that provides easy access to the water and lets you easily refill and clean it, that is absolutely a great advantage. It provides comfort on your part and will make life easier for you while walking.
On the other hand, if you still need to stop and remove the water bottle every time you drink, it is not fun and comfortable at all and will probably disrupt the rhythm of your walk.
Conclusion
Learning how to carry water bottle while walking efficiently will provide substantial benefits to you. You can just say that it is very easy to carry a water bottle, but some factors need to be considered to make it more comfortable and easy. A suitable water bottle carrier is also essential to make carrying easy and efficient.