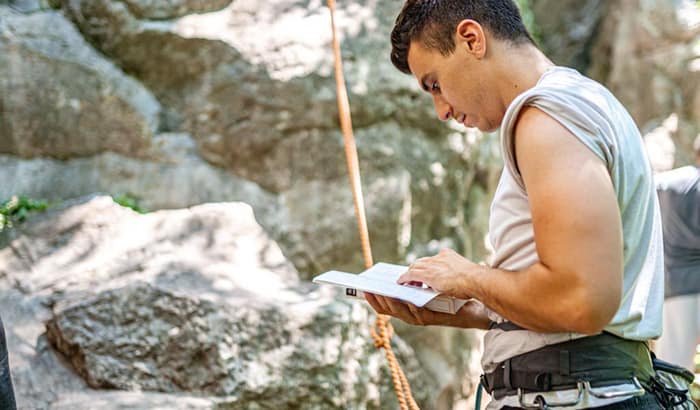 If you are interested in something, reading a book related to your interest will always add to your knowledge about the topic. This situation is the same if you are interested in any climbing activity as reading the best climbing books will equip you with loads of information about the topic.
This article lists twenty good climbing books you can read anytime and get a lot of information about your favorite outdoor activity. We have purposely segregated this list into two categories for you to find the right one for your liking.
Best Climbing Books Reviews
1.Into Thin Air Jon Krakauer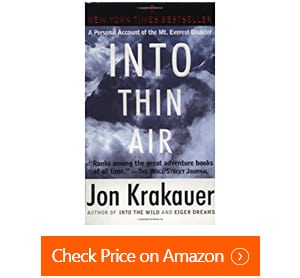 This book tells the real-life experiences of the author Jon Krakauer in his attempt to climb the highest mountain above sea level, Mount Everest. This book is perfect for people who love to read about real-life adventures while experiencing climbing challenges. I like how the author describes in detail his personal view of what happened on the day when eight people were killed and several others were stranded because of the storm.
Into Thin Air is one of the best books on mountaineering that clearly describes all the punishments and the feelings that a climber may experience in a punishing climbing environment like Mount Everest. The author covered a lot of ground without losing the reader during that 24-hour period when members of their separate climbing expeditions were caught in a powerful storm while experiencing strong winds and the effects of the high altitude on all the climbers.
The book itself is easy to understand, especially the technical aspects of the climb, which ordinary people that do not have climbing experience can relate to. I was also impressed by how the author balanced showing what had happened in his view while also making a friendly and engaging story despite being involved in this traumatic event.
2.No Shortcuts to the Top Ed Viesturs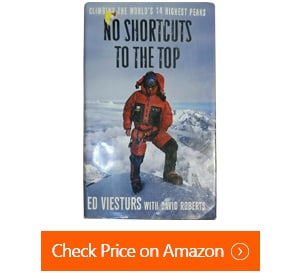 This book is a must-read if you are looking for a motivational book about mountain climbing. The author, Ed Viesturs, not only tells of his accomplishment of climbing all 14 mountains above 8,000 meters without using supplemental oxygen but also about his character as a person.
The book gets you motivated as the author successfully shows the reader a lot of reflections about his mindset as a person by showing how to balance priorities in achieving something. The book also shows the challenges of being a leader in a climbing team as well as the danger of mountain climbing constantly.
No shortcut to the Top is a motivational story for everyone as it tells a lot of lessons about perseverance and teamwork in getting the job done. It is one of the best climbing adventure books to teach leadership, goal setting, and risk management.
3.Alone on the Wall Alex Honnold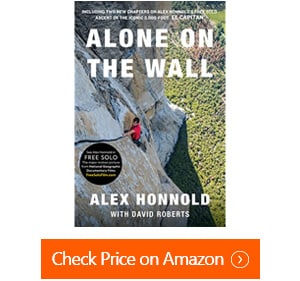 This book tells the success story of Alex Honnold as he recounts in his word as the first person to conquer Yosemite's El Capitan without any rope, protective gear, or even a partner. However, this book is more than just this extraordinary achievement; it also shows his life and his development as a climber.
Alone on the wall is one of the best books about rock climbing because it gives a lot of insights to rock climbing practitioners and non-practitioners as well. In fact, you do not need to be a climber to appreciate the achievement of Honnold in free soloing Yosemite's El Capitan.
This book is highly recommended to people who love sports and adventure biographies. First, the format of this book is easy two follow. Second, apart from reading this incredible accomplishment, the book clearly shows the humorous side of the author, which enhances the entertainment that this book provides to the reader.
4.Buried in the Sky Peter Zuckerman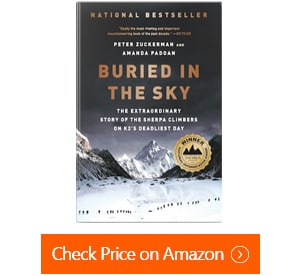 If you are looking for an exceptional and well-written book about mountaineering, then this masterpiece is a must-read. This book tells the climbing disaster in 2008 that left eleven people dead on K2 from the two people that survived the tragedy.
This book is probably one of the best books about mountaineering that I have read, as it provides a different perspective from the other mountaineering books. The book not only limits its storytelling to that horrific accident but also shows the heroism of the people behind every climber's success story.
To be specific, this book celebrates the lives and the sacrifices of the sherpas and all the high-altitude porters that support every climber. Others rarely recognize these climbing heroes, but this book successfully puts these heroes in the limelight.
You will surely be engaged and excited, especially those people interested in high-altitude mountain climbing, as the book cleverly describes the people and the mountains in complete detail. The author successfully shows the success and the failures of the mountaineers of K2, as well as the after-effects on the families of the people who died in the tragedy.
5.The Push Tommy Caldwell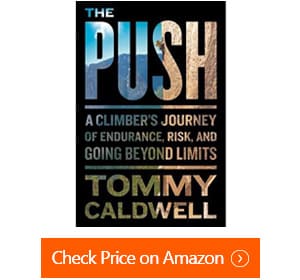 This book is about the triumph of Tommy Caldwell and his partner Kevin Jorgeson in January 2015. The feat is considered the most challenging climb in history as they summited the Dawn Wall, Yosemite's 3000-foot, almost vertical pitch climb.
If you are looking for the best rock climbing books for beginners celebrating life's highs and lows as professional climbers, this autobiography from Caldwell is a must-read. It marks the richness of life but also covers challenges in marriage, family issues, medical obstacles, and even divorce.
Impressive was the way the author shows all of these life experiences and even told the readers about his unique experience of being held hostage by terrorist rebels when he was on a climbing trip. The book also detailed all his climbing adventures, including his preparations for climbing the Dawn Wall.
Lately, this book did a great job combining the various aspects of the author's life and all his climbing adventures, showing his perspectives and priorities as he grows old. Lastly, the book did an excellent job defining and explaining the climbing details, including its rich history.
6.Denali's Howl Andy Hall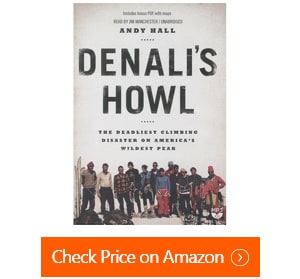 The book by Andy Hall tells the climbing tragedy that happened in 1997 when 12 young men climbed Mount McKinley in Alaska, locally known as Denali. Unfortunately, the group was washed out by a rare lifetime blizzard killing seven of the climbers.
I can say that this book is one of the best mountain climbing books that tells a beautiful yet tragic story of mountain climbing. Unique is the author's way of connecting himself to the tragedy as he adds his personal experience as the son of the park superintendent during that time.
This book is well-written, and if you love adventures related to mountains, you need to read this one as soon as possible. The author is very engaging in delivering all the facts as he did an excellent job of searching the personalities of all the people involved in the story, including their strengths and weaknesses in relation to the mountaineering aspect of the story. As you can see, inexperience in mountain climbing can kill, and this tragedy proves it.
Lastly, the author does a great job of paying tribute to his father and the whole climbing community, especially those brave young men who tried to summit the mountain. The book provides excellent pacing and is still enjoyable to read even with the terrific and gripping account of the mountain tragedy.
7.The Impossible Climb Mark Synnott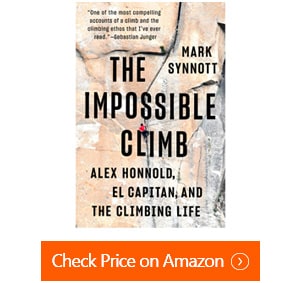 This book is another tribute to the historic achievement of Alex Honold and his free soloing accomplishment of the Yoshimite's El Capitan. But this time, this book is about a very deep reported perspective from an insider in his friend Mark Synnot.
From reading this book, I feel that the content is more than just that historic achievement of Honold at El Capitan. Yes, this part of the book is excellent, but the author also successfully showcases the interpersonal relationships between climbers while doing this expedition. It tells the exact behind-the-scenes exposure of people doing rock climbing.
For non-climbers, this book will provide a glimpse and probably a greater understanding of what it takes to be a professional climber and athlete. This well-written book also shows a good account of the historical evolution of wall climbing.
I recommend this book to any climbing organizations and climbers of any age. It is well-written and provides interesting psychological insights into the life of an athlete who loves to push their mind and body to the limit while putting their fear aside to accomplish greatness.
8.Mountaineering The Freedom of the Hills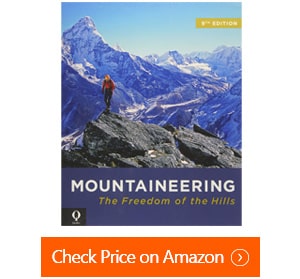 This book is the 50th-anniversary edition of the same book, which was released in 1960 and is widely considered the bible of climbing. It's one of the best climbing instruction books that guides every climber in many aspects of the climb. This book has everything from selecting the right equipment to tying a climbing knot and teaching basic rappelling techniques.
For me, this book is perfect for aspiring climbers since it is an excellent reference for any information needed when you are just trying to learn everything about all types of climbing. Reading this book from cover to cover will guide you in practicing your climbing skills until you improve in an actual environment.
This product is one of the best climbing training books as it covers in-depth information that is useful for any active mountaineer regardless of experience. Apart from massive amounts of information, the cover also provides well-made illustrations to the reader. It is also a bonus that this book is fun to read, which prevents boredom for the reader.
Overall, this book will be helpful to every climber regardless of experience. It will assist anyone in getting out the best climbing experience as it expands your mountaineering knowledge. This book will guide every climber to answer every question related to mountain climbing, such as gear, first aid, survival items, and many more.
9.Rock Climbing Mastering Basic Skills Topher Donahue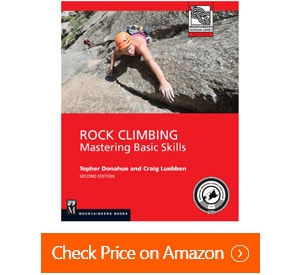 This book is the follow-up edition of the original book of the same name by Craig Luebbens. This time, his fellow climber and friend updated the original version by incorporating current climbing standards and new technological advantages to combine with the original approach made in the first book.
This product is one of the best climbing technique books for aspiring climbers or for anyone just interested in the topic. I am impressed by how this book is well-written, especially in providing detailed information about anchoring systems, knots, climbing skills, and other relevant topics. More importantly, this book is also perfect for seasoned climbers as it provides several technical steps and suggestions to offer different insights to experienced climbers.
I am also impressed by how the author organized and illustrated the topic to make it easy to understand. The early part of the book is the basic information about pure climbing and the right gears to use. Then, he covers the knots, the ropes, and slings while talking about protections in the later part of the book. Other topics are also discussed, including self-rescue techniques.
Also, apart from the excellent explanation from the author, the presence of photos is a great supplement to the text, making it easier to understand. This book contains the American Mountain Guides Association's standard way of doing things during the climb.
10.Self-Coached Climber Dan M.Hague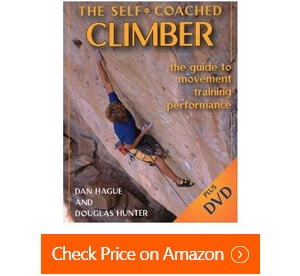 This book tackles improving your climbing skills and other related topics that will give you knowledge in enhancing your overall climbing background. This book is composed of a lot of topics, including comprehensive instructions for climbing. It also includes a DVD that shows live demonstrations of various training exercises that any climber can learn.
The author Dan Hague has creatively combined a training manual and climbing technique tutorial in a single product package. Most of this book contains climbing techniques and various training body movements and balances specific to climbing. But more importantly, this book is excellent in going into the specifics about the movement, position, and how to do it properly.
As for new climbers reading this book will open a lot of awareness of so many things that you will experience in an actual climbing environment. The only difference is that this book will give you the dynamics on the right thing to do as it provides all the training exercises that will help in developing new climbers develop good habits during the climb.
Overall, this climbing book will provide almost everything to improve your climbing skills by providing activities that anyone can do in a gym. Furthermore, this exercise activity will make every climber aware of the right footwork, balance, and shifting the center of gravity, making this book an excellent replacement for a personalized trainer.
11.Rock Climbing Technique John Kettle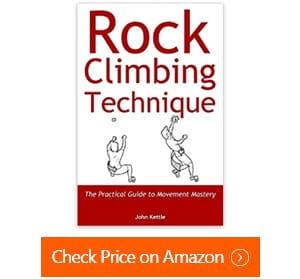 This book by John Kettle provides a helpful guide that helps every climber in mastering the movement used in the climb. The purpose is to make the climber more relaxed and powerful, which results in increased performance and enjoyment of the sport. This book will practically change your outlook on how to move in the rock.
I am impressed by how the author segregated each chapter of the book according to specific techniques. Each chapter comes with several drills that will help the reader improve that particular technique covered in the chapter.
Also impressive is the author's way of writing the overall content of this book. It's like an extraction of so many climbing tips that anyone can use. The author also has a unique way of providing concise and straightforward writing to make the climber focus on climbing better and stronger.
Overall, this climbing book will give practical coaching tips on many different aspects of climbing movement. The inclusion of exercises, especially the videos, will be a great help to new climbers. Even experienced climbers can learn a lot of information from this book and the DVD's contents.
12.Training for Climbing Eric Horst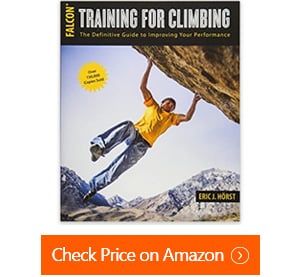 This book is all about improving your climbing skills through training. Author Eric Horst, a climber and an internationally renowned author, shows various training systems that help increase the climber's strength, power, and skill to focus and maximize the climbing performance.
The first thing I noticed about this book is the updated training version. With the constant development of the training for climbing, the author is very updated and incorporates new updates to the readers.
Furthermore, I can say that this book is probably the most thorough climbing book that I have read so far, as the topics are not limited to the various training mentioned earlier. It also shows other aspects of climbing, such as climbing nutrition, technique, injury prevention and treatment, and many more.
Lastly, I am also impressed by the quality of the writing as it is so easy to read. The reader will be engaged, which is essential when reading a training book. The reader will also gain a lot of new knowledge and improve his overall climbing skills with proper implementation.
13.Down Andy Kirkpatrick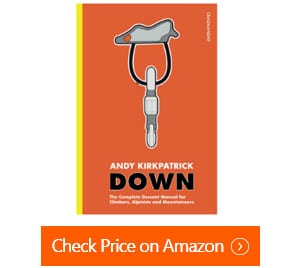 Author Andy Kirkpatrick covers an essential aspect of climbing the descent. The purpose of this book is to have a source of all descent techniques to help new and experienced climbers learn new and high-value techniques.
Upon reading this book, I was impressed by how the author successfully applied only the essential descent techniques that a climber can learn. No unnecessary and irrelevant information can be found as all information stated in this manual were top-notched descent tricks.
Furthermore, if you are a serious climber, this book must be in your position as a guide or reference in future climbing activities. I also like the fact that most of the information found in this book is not limited to rappelling, as other mountaineering aspects are also applicable. If you are into canyoneering, rock or snow climbing, this book can also help you.
This book is not only limited to climbers as the techniques provided will also be helpful to vertical access and rescue workers. Apart from being a well-written book, it also contains excellent drawings that help the reader understand easily.
14.Climbing Anchors John Long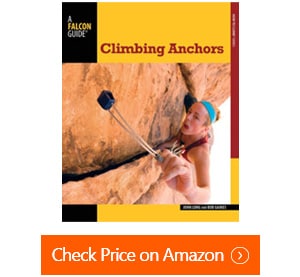 This book from John Long is a revised and updated edition that tackles the climbing's anchoring system. Unlike the old edition, this book includes new color photos to enhance its readability as it aims to set up anchors properly.
I was very impressed by how this book provides a lot of information, especially about building secure anchors. It is an excellent comprehensive guide related to anchors as the main subject providing essential information about the principles of gear placement, all forces, and using the right equipment.
Besides covering climbing anchors also provides information about trad placement's safety. This book is also an excellent source of information for a beginning trad leader and a beginning multi-pitch leader.
As far as the writing quality is concerned, the book is very concise and well written. The book clearly explains what you need to know about the topic and the valid reasons behind the idea. The book is well-structured, which is perfect for novice and experienced climbers.
15. 9 Out of 10 Climbers Make the Same Mistakes Dave MacLeod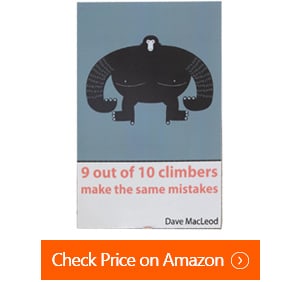 This book from Dave Macleod covers a unique subject from all the books we have listed here. It discusses the mistakes most climbers make that make them stuck in so many aspects of climbing. Whether it's the failure to improve their climbing standard, lack of motivation or inability to manage time, and many more. This book will showcase the science of improving your climbing skills and make you focus on what is essential in your climbing journey.
The fact that this book is written in the opposite way from the other climbing books that I read makes it unique. Instead of providing information about how to improve your climbing skills, the author showcases the problems that most climbers unknowingly use for them to be stuck in their climbing ability.
Whether it's the lack of technical ability or the absence of the climber's mindset, the author successfully shows all the reasons for the failure of the climbers. The book will be working on the reader's mindset to spend time working on these reasons to improve the climbing standard.
As for the quality of the writing, it is a fun and well-written book perfect for novice and experienced climbers. This book is highly recommended because it puts all the climbing flaws in front of you while trying to encourage you to face them in training.
16.Climb Injury-Free Dr.Jared Vagy DPT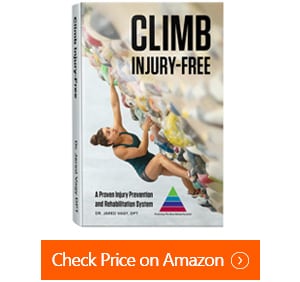 This book from Dr Jared Vagy DPT covers an essential aspect of climbing: injury prevention and rehabilitation. The book is a guide that will teach climbers the proper ways to climb stronger and pain-free. It features an injury and rehabilitation prevention system for rock climbers.
Part of this book covers a comprehensive overview of some of the less common climbing injuries that anyone can have and how to rehab them. The book also features the rock rehab pyramid, which is probably the best part of this book if you follow it to the letter.
This book is well-written, concise, and well-detailed in terms of quality. The volume is broken down into easy-to-navigate sections for the specific injury or ailment. I also like that the information is presented in an orderly way. This book also features a "what it does" section that tells the reader the targeted treatment of the body from each exercise or treatment you are doing.
Lastly, this book also shows the importance of having the proper movement and technique to keep yourself healthy. This book is an excellent reference you can always count on throughout your climbing activities.
17.Crack Climbing Pete Whittaker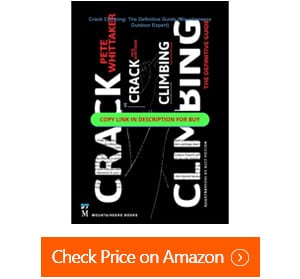 Author Pete Whittaker is a known crag climbing advocate, and it clearly tells what this book offers to the reader. This book provides detailed information and a comprehensive guide that teaches various techniques and tips related to crack climbing.
The author did an excellent job presenting all crack climbing techniques in a way that novice climbers can easily understand. From reading this book, expect a newbie climber to learn and improve various crack climbing techniques. The book provides detailed instructions and illustrations to make it easy to understand.
Quality-wise, this book is well-planned, well-written, and well illustrated, which makes it an awe-inspiring guide to crack climbers. The organization of the various sections of the book will let the reader quickly find any crack climbing technique that the reader wants to learn.
Also impressive is the author's sense of humor, which makes the content more interesting and prevents boredom as you advance to the book's other sections. The way this book provides a resource in its dept makes this book highly recommended for trad climbers.
18.Vertical Mind Don McGrath and Jeff Elison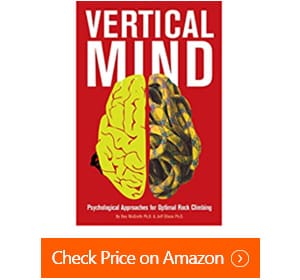 In this book, the authors Jeff Ellison and Don McGrath focus on the unique part of the climber, which is the mental aspect. This book will teach all aspiring and even experienced rock climbers how to improve their mental game to let them climb better while enjoying the same time.
I am impressed by how this book covers many topics about the mental aspects of climbing. And it helps that you can read it whenever you want. You can read it while recovering from an injury or on rest days. You can also read it even while on an outdoor climbing trip.
Also, this book does an excellent job of looking for climbing difficulties while exploring the practices to overcome these challenges. All the ideas and steps included in this book will improve every climber's mental aspect while on the wall.
This climbing book will take the climber's skills to the next level. The authors successfully combine psychology, science, and their vast climbing experience to provide a very informative book which is also very entertaining to read. This book is a must-have if you are a climber who wants to bring your mastery to the next level.
What to Look for When Looking for a Climbing Book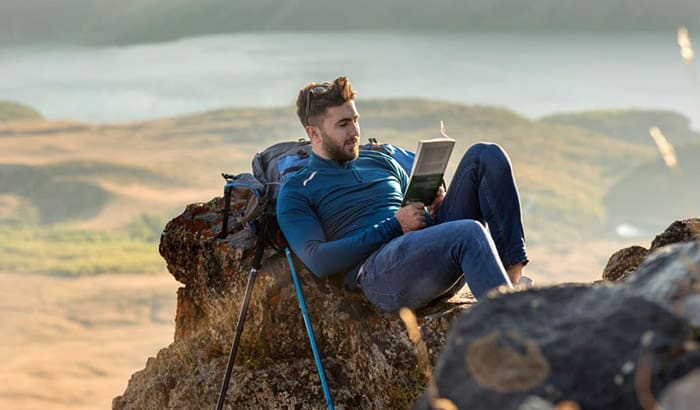 With so many books related to climbing, you must know some factors you need to consider before buying the book. Please see below.
Type of Climbing Book
When purchasing a climbing book, you need to know first what type of book you are looking for. Climbing books can be classified into two main categories: stories and skills books. So, if you are looking to enhance your climbing skills, then a climbing book that teaches and guides climbers to improve their skills is the right one for you.
Otherwise, you can also go for story-type climbing books, which usually cover true-to-life adventures and misadventures of climbers. Some books also show climbers' achievements and triumphs as they conquer difficult challenges in their climbing careers.
Quality of the Book
The book's quality is also worth considering so that you will be satisfied while enjoying reading the book at the same time. First, the book must be well-written, concise, and well-researched. Then, the book must have all the information you need when reading it from cover to cover.
To check on the quality of the book, you must do your research on the expertise of the author. You can also check online reviews of the book to know the feedback of other people who have already read it.
Affordability
Affordability may not be as important as the first two factors, but this is also important to consider before buying, especially when you are following a budget. The book's price may not be a big issue since most books are affordable, but it is also essential to get the best value for the amount you are spending.
Frequently Asked Questions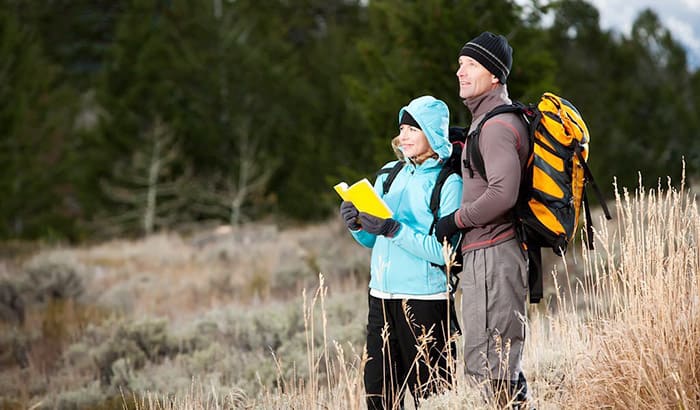 How to Learn Climbing?
There are many ways to learn climbing, but finding a climbing club is the easiest way to start. Then, you can find an experienced climbing instructor to teach you the basic skills to learn in doing a climbing activity. You can begin climbing indoors or outdoors, but the usual starting point is climbing a wall.
Another way to learn climbing is to read books. In this article, we feature several climbing books that will provide you with various tips and techniques that will help you start learning climbing.
How to read Bouldering Routes?
When it comes to bouldering, all grades usually start at V. For bouldering routes, the lower numbers are generally designated for more manageable problems. In comparison, the higher numbers are typically assigned to more complicated problems. V0 to V12 are usually the numbering in the climbing gym.
Conclusion
When you are a serious climber, constantly learning new tricks and techniques will help improve your performance. And one way to learn new techniques is by reading the best climbing books available today. The books will help in many ways, especially in providing relevant information you cannot find. The key is your proper implementation of the knowledge you acquired after reading.