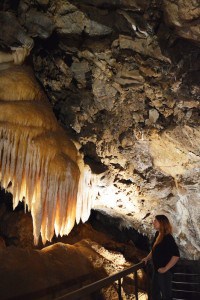 Black Chasm Cavern was designated a National Natural Landmark by the National Park Service in 1976 after being recommended by local members of the National Speleological Society, and as such is considered a "nationally significant natural area."  Visitors to the cave are enchanted by the beauty of a wide variety of formations including stalactites, stalagmites, flow-stones and the vast arrays of rare helictite crystals, for which Black Chasm Cavern is justly famous.
Above ground, kids and adults love our gemstone mining at our water flumes right outside the Visitors Center. Everyone is guaranteed to find some real gemstones; the perfect start to a rock collection! Try our incredibly popular geode cracking too!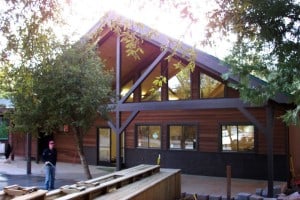 Our 3,000 square foot Visitors Center provides information on Black Chasm Cavern's connection to the Matrix trilogy, and display props from the movies: huge manufactured stalagmites from the Zion set. In addition, information is displayed on the discovery and mapping of numerous fragile, highly decorated, small chambers in Black Chasm Cavern by a team headed by Dr Hazel Barton who starred in the iMax movie "Journey into Amazing Caves".
Below is a video showing the tour at Black Chasm Cavern by KCRA tv.